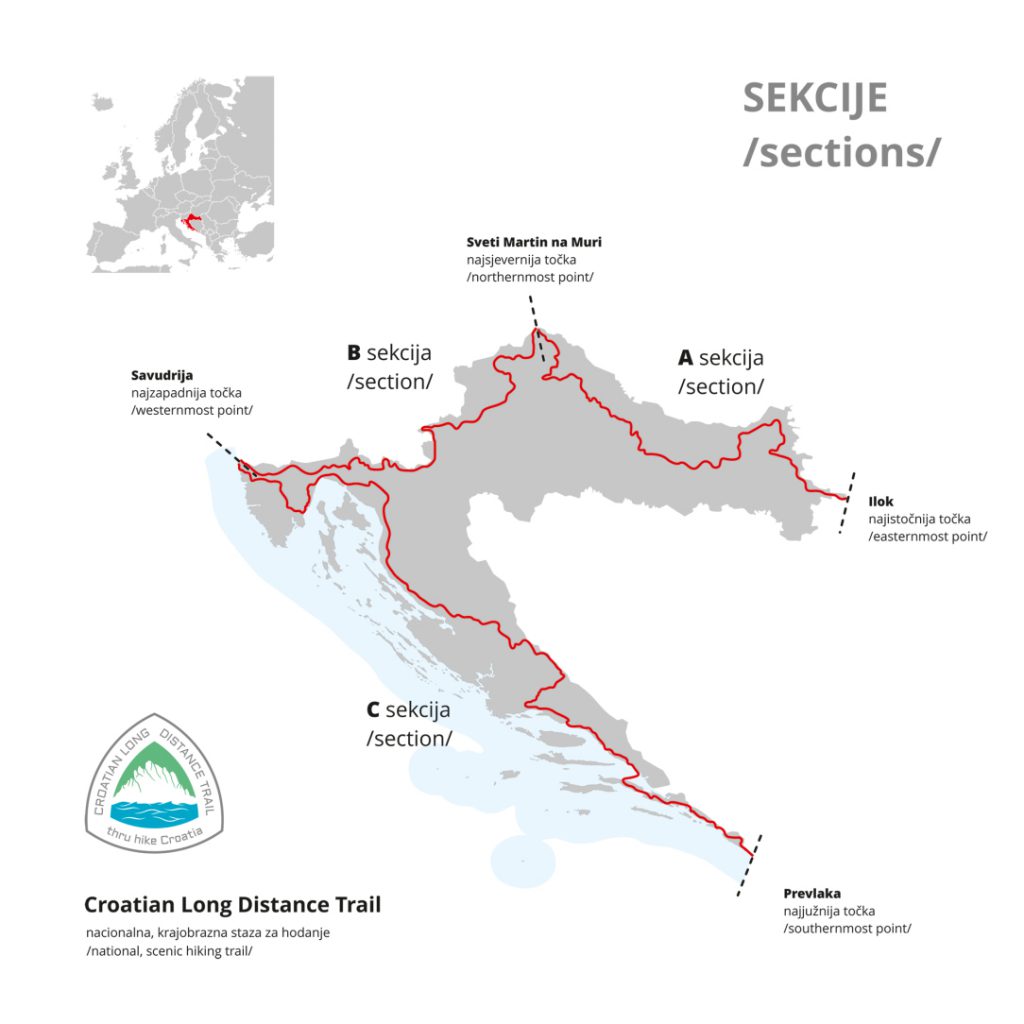 What is CLDT?
Croatian Long Distance Trail (CLDT) is national scenic long distance hiking trail that connects easternmost, northernmost, westernmost and southernmost points of Croatia. It is the result of work of the CLDT Association (CLDTA), which was founded out of a desire to make the first such trail in Croatia, modelled by the world's long distance hiking trails.
Trail length is approximately 2200 kilometers (1400 miles) with around 65.6 km (215223 ft / 40.76 mi) of positive elevation gain. CLDT consists of 3 sections (A,B & C) and is intended to be hiked in one single push in its entirely length (end to end, thru-hike Croatia) or in sections (at least one complete section, section hiking). While creating the trail we used existing trails, forest paths and roads.
On your CLDT adventure you will hike through all types of terrains. Maintained mountain trails, wild trails, hard rock terrains of Dalmatia, forest paths, gravel roads and sometimes asphalt roads (on some sections of the trail there were no other options). As the trail is still in making we are working on minimizing the asphalt sections so potential hikers can have a more enjoyable experience of hiking the CLDT. If the season has heavy rainfall it's possible that small stretches of the trail become overgrown (mostly in section A). If you spot such sections during your hike check out the Your Help section of this page and let us know.
It usually takes about 100 days to thru hike the CLDT. Have in mind that this is just an estimation and your hike may be longer or shorter than said number of days, depending on weather conditions and your fitness level. Hiking season on CLDT starts at the beginning of March and finishes at the middle of November but that also depends on weather conditions throughout the year. Trail is not closed in the "hiking offseason" but CLDTA doesn't recommend hiking the CLDT during the winter season because of short days, poor weather conditions, strong cold winds, extremely deep snow in mountains, closed huts and shelters etc.
During summer season hikes need to count on high temperatures in July, June and August. Normal temperatures in that period are around 30-35 degrees Celsius, and there's usually few days when the temperature goes up to 40 degrees.
Croatian National Trail System
Croatian Mountaineering Association (CMA), established back in 1874 is Croatia's main hiking organization. CMA counts more than 30 000 members in about 350 regional and local hiking and mountaineering clubs. They maintain more than 7500 kilometers (5000 miles) of official marked hiking trails in mountain areas. Their trailwork is completely voluntary. CMA members also built and maintain more than 160 mountain huts and shelters and a lot of them are positioned on or near the CLDT route and make your thru-hiking adventure more pleasant and secure. CLDTA is tremendously grateful to CMA members for that huge amount of volunteer trailwork during last 150 years without which creating the CLDT would probably be impossible.
If you want to explore more of Croatia's trail system feel free to visit CMA's website, which is currently only available in Croatian.
Hike the CLDT
As CLDT is still in making there are no (CLDT) trail marks yet and at this moment the official tool for navigating the trail is the FarOut mobile application (formerly Guthook Guides).
The application offers a lot of waypoints that let you know where you can find shelters, mountain huts, water sources, resupply points and everything you may need on your hike.
More than 50% of trail route follows officially marked CMA hiking trails. CMA marks are standardised to be the same in all parts of Croatia. Basic and most common mark is red circle (ring) with white dot in the middle. Dimensions are about 10-12 centimeters. Other varieties are two red lines with white line in the middle, or just one red line (usually on the rocks on the ground). Combinations of red and white colors are CMA official marks. So that red-white marks will guides you through all mountain and wilderness areas of Croatia but there's a lot of CMA trails out there and all of them are marked with the same marks.
Because of that, when you came to crossroads of multiple trails (usually marked with X sign 30-50 meters before the crossroad) check your application or topographic map to make sure you follow the correct path. For last 2-3 years CMA started to mark the trails with numbers in future it will makes orientation a lot easier.
As regards to official CLDT trail marks, you will find them only on 150 kilometers (100 miles) long section from Sava river (Zagreb) to Gorski Kotar area. Internally we call that section a "test section" to see how well the trail marks work for hikers and local communities respond to appearance of such markers.
CLDT trail marker consists of just one yellow line (8-10 centimeters long).
CLDT trail logo (or emblem) (triangular metal platte with 10 centimeters radius) periodically every 30-45 minutes of estimated hiking.
It will probably takes a years to completely mark the CLDT route or just sections without officially marked CMA hiking trails.
Hiking the CLDT is based on mutual trust. When hiker reports to us that they successfully thru-hiked the CLDT or one of it's sections CLDTA will not check the validity of such claim (as CLDTA has no way to verify that statement.) and said hikers will receive a certificate of competition. We believe in good and truthful personality of long distance hikers.
CLDT thru-hikers can also receive a finisher's medal and special edition finisher's T-shirt for a small fee (price not yet determined) as a memory of their Croatian hiking adventure.
Resupply on the trail (food and water)
CLDT route guides you through or nearby a lot of settlements so resupply should not pose a problem. You can find a lot of resupply points and water sources in FarOut mobile application marked as points of interest. We are always working on improving the quality of waypoints we offer in the mobile application but if you find something missing you can always switch to Google Maps in the application itself (or open the Google Maps app) and search for any points of interest you might need (like services, stores, pharmacies, accommodation, self-service laundry stations…).
Some of them are small village grocery stores but there are still a lot of supermarkets as well. Some CLDT sections guide you through the wilderness for several days in a row so you need to be sure that you have enough food until the next resupply point. In such sections food resupply points are located off the trail.
There are some waterless stretches and paying close attention to that is critical. When passing through or near settlements you can always ask locals to give you some water. Backcountry water should be treated or filtered.
Croatia doesn't really have a wide variety of stores that sell outdoors equipment – they got mostly basic equipment for weekend hiking. Our recommendation is to bring with you complete equipment you plan to use on the trail, particularly if you planned to hike ultra-light. You can use local outdoor stores if you break or lose some piece of equipment but it is not guaranteed you will find what you need. Most outdoors stores are located in cities of Zagreb and Split.
Camping
Croatian law states that camping is not allowed but bivouacs are allowed if you are unable to get to the shelter before the nightfall. If you follow our simple advices you will certainly have no problems with the authorities. We have marked suitable camping locations in our mobile phone application but if you find some alternatives we welcome you to mark the waypoints in the application and give us feedback so we can review and incorporate them for all other application users to see.
Do not place your tent in or near the settlements, on farmland or private property. You can set up your tent outside of the settlements and busy roads, wherever you find a suitable surface. Do not make campfire, use your gas stove to prepare your meal. Mountains are mostly equipped with huts and shelters built and maintained by Croatian Mountaineering Association.
Shelters are most common, small open-type facilities, not equipped by food and drinks but there is usually water source next to or near them. They are free of charge for overnight accommodation. We urge future hikers to keep shelters clean and follow the Leave No Trace principles. Most huts are open on weekends, some of them seven days a week during the summer. Some huts, when closed, offer free winter rooms that are usually unlocked and no prior announcement of stay is necessary. If hut is open they are usually equipped with food and drinks. Overnight stay at huts is charged.
CLDTA urges hikers to follow Leave No Trace ethics and principles. If you want to spend the night in a hotel, hostel or rent a room somewhere along the trail you will have to make such reservations yourself. It is recommended that you do so a couple of days before arriving at your destination. Croatia is a tourist orientated country so there are a lot of options for you to spend some time on the coast or something simillar.
Leave No Trace
CLDTA demands of CLDT hikers to follow Leave No Trace ethics and principles. LNT provides easily understood framework of minimum impact practices for anyone visiting the outdoors. Each of us should minimize our impact on the trail and its surrounds. Here are some basic Leave No Trace principles for CLDT hikers:
Keep your footsteps on the trail.
Take all your trash and waste with you and dispose of it properly.
Do not urinate or poop on the trail or near the trail.
After pooping bury your droppings in the ground. Do it at least 50 meters off the trail and 100 meters away from campsites and water sources.
Wash clothing and dishes at least 100 meters away from water sources.
Do not make campfires. If you need to light the fire use your stove. Do not burn trash or waste.
Respect wildlife. Do not make loud noises on the trail. Keep your distance from wild animals. Please do not feed wild animals.
Be considerate of other hikers.
Permits
You do not need any permits to hike the CLDT but we urge each hiker to fill out the form from the link below to generate a certificate which states that you are a CLDT hiker.
Print that certificate on the paper and carry it together with your personal identity documents (passport, ID card) during your CLDT hike. In case of some routine identity check by the police that certificate would make your conversation a lot easier. There is always a possibility that police officers in rural areas do not speak English and that is why this certificate is written in Croatian, and will possibly make such situations a lot easier. Future hikers need to know that this certificate does not hold any legal value, it's only purpose is to help hikers explain the nature of their stay in Croatia more easily.
There's also a few telephone numbers of CLDTA members you can call in case of serious problems. Because of those reasons contact CLDTA before starting your hike and let us know that you are on the CLDT.
Safety
On the CLDT your safety is your own responsibility. No officials are actively monitoring or keeping track of your location. You should be in communication with your friends or family and inform them about your location and condition. Do that frequently.
Enjoying CLDT safely comes with the responsibility to be informed, prepared and alert to your surroundings. While hiking the CLDT you will most probably encounter phenomena that might be new to you. If you've hiked or reviewed information about famous trails like the AT, PCT or El Camino you will find that CLDT in most stretches isn't like such well known trails. First reason is that as opposed to such trails, CLDT is a trail only a few years old, and other is that most Croatian trails are built as single tracks with minimal impact to the surrounding area (exemption to this are trails that are popular destinations used by general population). While this is a warning, and we do not want to sound too alarming, we urge hikers not to underestimate Croatian mountains (like Velebit mountain range, Biokovo, Dinara..) and always think of their safety first.
In order to prevent unpleasant situations here are some examples of dangers you might encounter while hiking the CLDT:
Ticks.
Bees, wasps, and hornets.
Scorpions (Istria and Dalmatia).
Black Widow spiders (Istria and Dalmatia).
Nose-horned viper.
Wild animals (bear, wolf, lynx, wild boar, deer).
Live stock (cattle, horses, goats, rams, pigs).
Shepherd dogs.
Heat (dehydration, sunburn, heat stroke).
Burra – strong wind that occasionally blows, sometimes even for days. In winter months it can be so strong that it completely prevents hiking (complete C section).
Cold – hypothermia. Even in the summer times there is a possibility of snowstorms in the mountains and temperatures below zero degrees.
Traffic on busy roads.
While hiking there is always a possibility that you will encounter life-threatening situations (injury, illness, losing the trail etc.). In such case you should call National Emergency Number (112) which will connect you to necessary services (police, ambulance, Croatian Mountaineering Rescue Service). Also you can always contact CLDTA via telephone, email or social media. Our members will do their best to help you with advice or try to resolve a specific problem on the trail. Here in Croatia we got National Mountaineering Rescue Service (NMRS). They count about 25 regional and local stations all over the country. NMRS is volunteer organization but all their members are highly experienced hikers, speleologists, rock climbers, alpinists, divers, and are fully trained for all kinds of rescue operations in backcountry and mountain areas. They are equipped with all terrain Land Rover vehicles, rescue dogs, drones, boats, and even helicopters. NMRS does these rescue services completely free of charge, voluntarily, but that does not mean you can call them for some unessential reasons like blisters or such. Call them and request assistance only if you get into serious life-threatening situations.
Transportation Options
If you are not from Croatia it might be difficult to get information on how to get to the trail hotspots (start/finish point or start/end points of certain sections) so we curated some options on how to get around using public transportation. Keep in mind that information below is subject to change and may not be up to date. Therefore make sure to confirm the accuracy of information with local service providers before you set out on your hike.

1. Get to the start point of the trail (easternmost point) from the capital city:
Bus: Zagreb (13.30h) – Ilok (19.05h), bus fare ~180 HRK, drives every day
2. Get to the start point of section B from the capital city:
Bus: Zagreb – Čakovec, bus fare 70-100 HRK, drives every day
Train: Zagreb – Čakovec, train fare ~70 HRK, drives every day
Afterwards take the local bus from Čakovec to Sveti Martin na Muri and walk to the trail head. The link to local bus transportation provider is here (in Croatian only), drives every day except on Sundays. You can also ask railway employees for info regarding transportation options when you arrive in Čakovec.
3. Get to the start point of section C from the capital city:
Bus: Zagreb – Umag, bus fare 170-230 HRK, drives only few days a week
Afterwards hike ~1.5h to Savudrija (westernmost point of Croatia and CLDT) or hitchhike.
4. Get to the end point of trail (southernmost point) from the capital city:
Bus: Zagreb – Dubrovnik, bus fare ~170 HRK, drives every day
Afterwards catch a bus to Vitaljina from the bus station in Dubrovnik. This bus drives every day except Sundays (table of departures is here, in Croatian). When you get to Vitaljina you can hike ~1.5h to the southernmost point of the trail or try to hitchhike to Prevlaka (southernmost point of CLDT). Alternatively, you can catch a bus from Dubrovnik to Cavtat and take a taxi from there to Prevlaka.
Keep in mind when planning for transportation that you will probably have to pay by cash in Croatian currency (HRK, Croatian Kuna) if you are buying a ticket directly from the driver. If you are buying/reserving your tickets online you can pay by card.
For more options we suggest that you visit our Facebook Trail Angels group where you can ask any questions regarding transportation (or anything else) and try to arrange some other means of transportation to your starting point on the trail.
Trail Angels
Trail Angels are people who usually lives near the trail route and volunteer to give logistical support to hikers .They offer transportation by car (shuttle) to resupply point nearest to the trail route, food and drinks on the trail (trail magic) or accommodation (bed, shower, clothes washing).
Trail Angels do these things for the hikers voluntarily and out of their own pocket so it's always polite to give them some kind of compensation (gas money for example). As the whole concept of long distance hiking is new in Croatia, Trail Angels community is pretty basic for now but we are sure that in coming years things will change. You can get contacts and locations of Trail Angels by contacting the CLDT or by visiting our Facebook Trail Angels group.
Your Help
As you already know, CLDT is brand new trail and we are still looking for better solutions regarding some sections of the trail. Also there is for sure a lot more resources near the trail route we did not discover or simply missed and as such are not noted in the FarOut mobile application.
As such, we ask of future CLDT hikers that if you find shelters, water sources, resupply points, or anything hikers may need somewhere along the route that you please let us know about it. Mark such spots as custom waypoints in the FarOut mobile application or use some other means to communicate the GPS coordinates and purpose of new waypoint to us. That's going to make hiking the CLDT a lot easier and more secure for next generations of the CLDT hikers to come.